A Post Code is a series of digits appended to a postal address, assigned by Antarctica Post for the purpose of sorting mail. The basic format consists of four decimal numerical digits.
Structure and Allocation
By type/use
There are four types of post codes: Unique (assigned to a single high-volume address), P.O.-box-only (used only for P.O. boxes at a given facility, not for any other type of delivery), Diplomatic (used to route mail for the diplomatic missions off-continent) and Standard (all other post codes).
By geography
Primary State Prefixes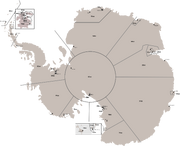 Post codes are numbered with the first digit representing a state, the second digit representing a region in that state (or perhaps a large city) and the third and fourth digits representing a group of delivery addresses within that region. In general, the first two digits designate a sectional center facility, the mail sorting and distribution center for an area.
In terms of geographic regions, the lowest post codes are in Victoria Land and increase as one travels westward toward the Antarctic Peninsula.
The first digit of the post code is allocated as follows:
Secondary Regional Prefixes (12xx) and Local Post Codes (1234)
The second digit represents the sectional center facility (e.g. 91xx represents the Abernethy Flats area of Magellan Borough, Alyeska), and the third and fourth digits represent the area of the city (if in a metropolitan area), or a village/town (outside metro areas): 9120 (9=Alyeska, 1=Aurora sorting facility, 20=Astoria post office).
Suffix
In addition to the standard four-digit post code, an additional four digits designating a box number is also used. Since addresses in the Federation are rarely attached to streets, almost all mail delivery is to post office boxes. Therefore, the proper formats to write an address on an envelope are as follows:
The post office box can be written as a second line:
John Smith
PO Box 1234
Astoria, AE 9120

The post office box can be written as a suffix to the post code:
John Smith
Astoria, AE 9120-1234

In either case, the mail would be delivered to post office box 1234 in the Astoria zip code 9120. A post office box number can be 4 or 5 digits. Usually, the first two digits identify the floor of the building: the 12th floor is 12xx. The latter digits identify the unit number: 1234 is unit 34 on the 12th floor of the building covered by post code 9210. In very large buildings, such as the Habitat in Magellan, it may be necessary to use five digits (the first two identifying the floor and three that identify the unit number).